Decorative portholes add the perfect touch of nautical style to bathrooms, hallways and any room in your home, inspiring thoughts of nautical sea adventure. Decorative portholes are also a lot more economical than genuine antique portholes which can cost up to 100s of dollars, may require cleaning & polishing, our decorative portholes are also easier to install and lighter in weight. You can view some antique portholes here at BigShipSalvage.com.

What are decorative Porthole Windows? Decorative porthole glass windows are number one: not seaworthy for installation on a boat or watercraft. CaptJimsCargo's porthole windows do not have have a inner backing plate as a seaworthy porthole would have. The porthole's glass is normal plate glass not safety glass and would fail if a large wave was to impact it.

Our porthole windows are somewhat water resistant with a small rubber seal between the glass and the inner lifting porthole window section. There is no seal between the opening porthole window section and the porthole base, but you can easily glue a gasket in place, such as "Frost King" foam window insulation used for home windows.

The porthole is installed by screwing them into place on a wall or door frame (most of them have the screw holes hidden behind the opening porthole section). It is best to screw them into a frame member within the wall, if that is not possible then you can use screws going into Poly Anchors, the anchors expand within your wall. For heavier portholes you may want to consider using a expanding toggle bolt/screw in the upper screw mounting position (the toggle expands completely behind the wall surface) and poly anchors for the lower screw mounting positions.

For doors most of our customers purchase two identical portholes and through bolt them together. This way the porthole's exposed inner section is not showing on the opposite side of the door, as there are no backing plates included with CaptJimsCargo's porthole windows. This also makes for a very strong installation suitable for use on swinging restaurant or bar doors.

CaptJimsCargo's porthole mirrors can all be installed the same as above, but you can be creative and use your own ideas. Below is an awesome idea one of our customer's in Germany came up with for his computer gaming Battlestation.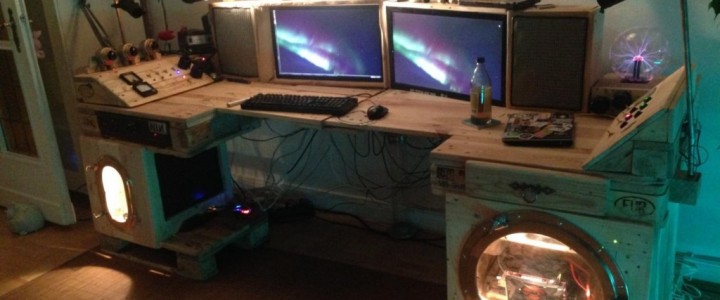 Another very popular use for our porthole windows is to install them in restaurant & home swing doors. You would need to purchase 2 porthole windows for each door and install one on each side of the door as all of our portholes do not have a backing plate. Below is just how Westside Curb Appeal Inc. located in beautiful Peachland, British Columbia did that for one of their thrilled customers!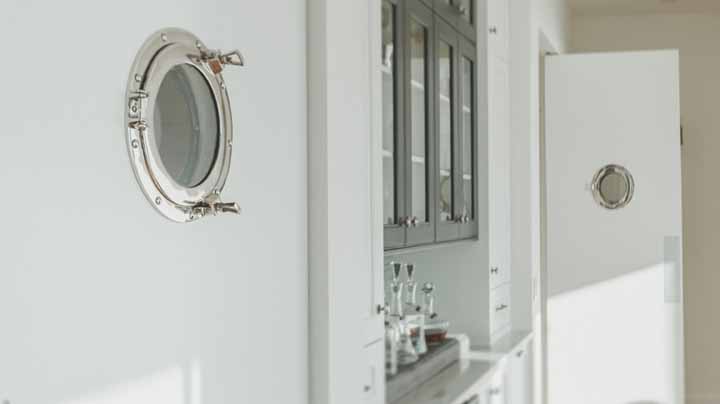 Another great idea from Ted of Burlington, VT! He sent: I thought you'd enjoy how I employed the six porthole frames I recently bought on Ebay from you. Needed to get some daylight into my kitchen so I cut three, 8-inch diameter circles in the wall between the kitchen and living room, cut a piece of aluminum flashing to cover the stud holes, and attached the portholes. On the kitchen side, I put up a piece of birch-wainscote panel as an added treatment. Almost looks like an old Chris Craft, eh?!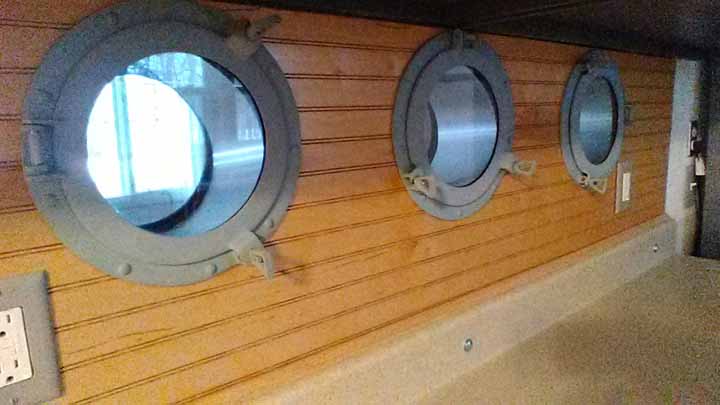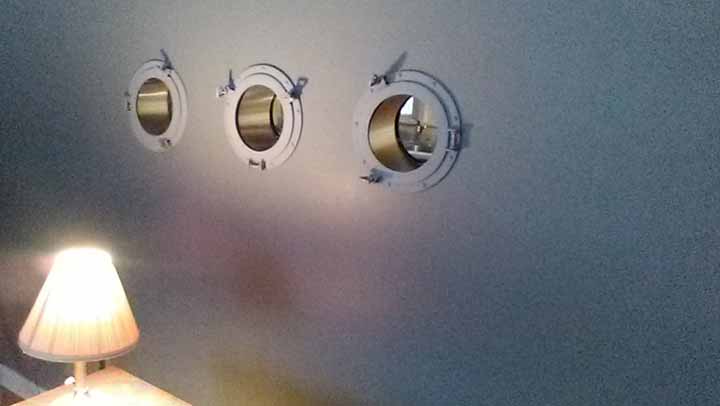 Our portholes are made of solid brass, solid aluminum and solid iron metal. The solid brass portholes are the heaviest construction and weight, but are pretty limited to just a brass finish. The aluminum portholes are lighter in weight and construction but offer many different finishes. The iron metal portholes are the best value for a porthole but lighter in construction and with limited finishes.

I hope this article helps you out in selecting a porthole window or mirror. You can view CaptJimsCargo.com's entire porthole collection here. Thank you for your time.